Feeling Free in Utah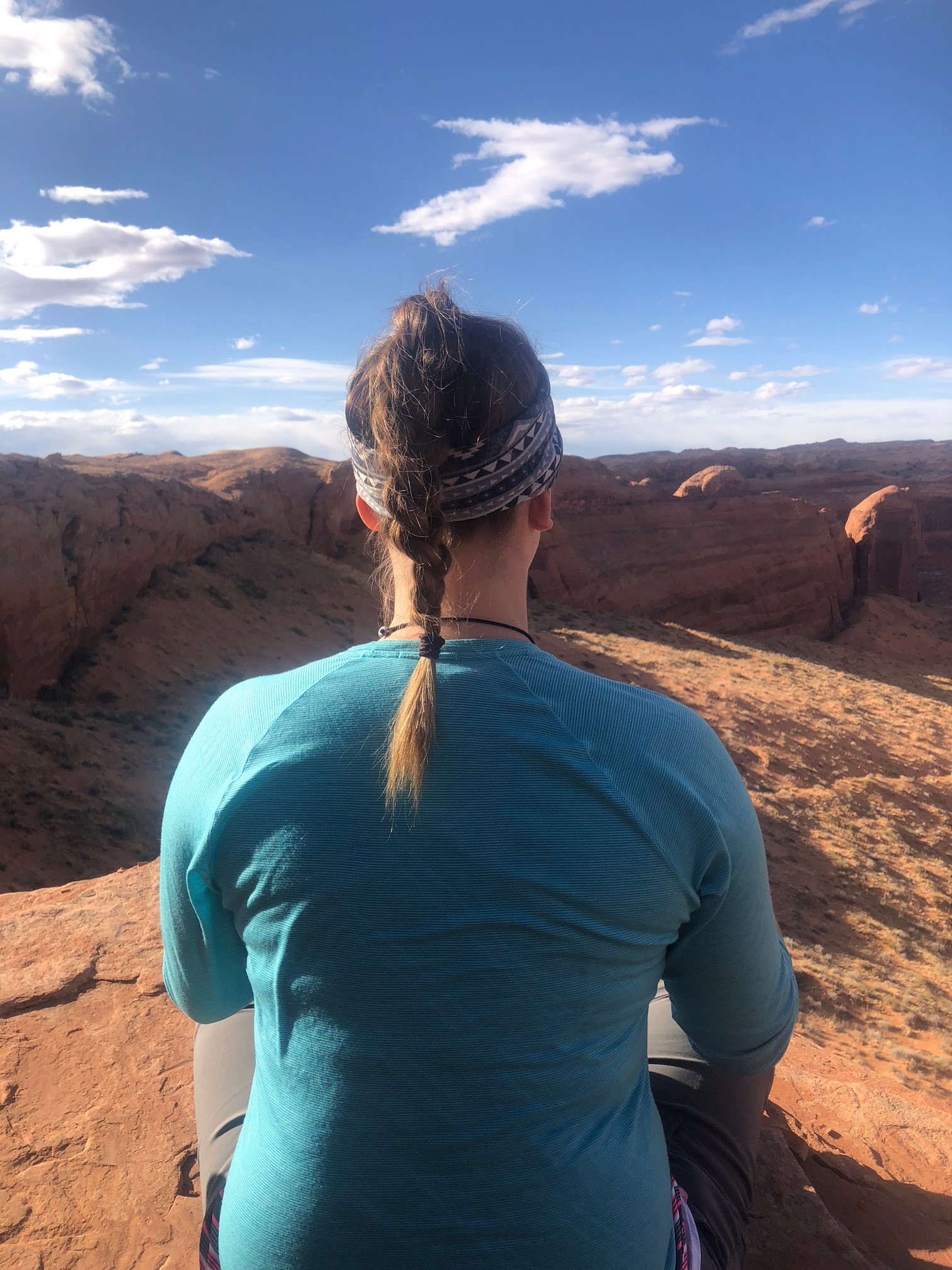 Me: "Do you think I can do this?
"
Husband: "I think you can do anything now."
I recently returned from a week-long adventure in, and around Escalante, Utah. My husband and I flew to meet our, now Californian – but forever Midwesterners at heart, friends in Las Vegas. We rented a Santa Fe and hit the open road.
Road trips (loud music, non-stop storytelling, laughing until it hurts, windows down, and expansive views of canyons) are soul-filling.
We wanted an off-the-beaten-path adventure so we chose Bureau of Land Management ("BLM land") as our playground. Coyote Gulch in Glen Canyon was our first destination. She did not disappoint!
We knew that a "class 5 scramble" would be part of our entry/exit to Coyote Gulch, but honestly I had no idea what that meant. We also knew that we had to carry out ALLLL of our own waste. I DID know what that meant….yikes.
Ultimately, I learned that facing my fears of climbing up and down huge steep cliffs and packing out your fecal matter is worth the adventure.
We had FUN. Face-hurts-from-smiling-and-energy-rush-from-challenges FUN.
I "scrambled" down a cliff in between two giant rocks that I could barely fit through.
I climbed up a steep rock that had three ominously placed climbing ropes anchored somewhere beyond sight.
My husband didn't think I would do it. I didn't think I would do it.
The sight of those three ropes hanging from a cliff literally took my breath away.
The only other option was hiking 7 more miles…. I mustered up the courage, took a LOT of deep breaths, tried not to attach to my fear, and just went for it without overthinking it.
I can hardly believe I did it. It was such a rush.
After that hike out we went to a beautiful day hike called Devil's Garden. A whimsical little place filled with "hoodoo" rock formations that you can climb all over. At the base of one of the steep hoodoos, I asked my husband if he thought I could scramble up it – he replied that I didn't need his reassurance anymore: "I think you can do anything now".
Bryana Cook and, her husband, Dan Ryan live and play in Longville, MN. Bryana is a yoga teacher/business owner (Northern Namaste Yoga & Boreal Bliss Yoga Retreats) and social worker. Dan is a local fishing guide (Dan Ryan Guide Service) and environmental educator. Together they make a point of living a life they enjoy in an area they love. Lake country provides endless opportunities for fun. When not near a lake, you may find Bryana and Dan making maple syrup, playing with the dogs, hiking, traveling, or chopping wood and moving it around.
***P.S. If you're like me... you are pretty depressed about this January-like weather in April. I revisited by first blog article, Radical Self-Care in Winter, and found my own thoughts helpful. Now I just need to listen to myself... Here it is.