Wild Women Yoga Retreat 2018 Recap
Wow. All we can say is… wow.
We (Joella and Amanda) often worry that "we will run out of ideas" for our retreats. Bryana typically worries that we have too many ideas (lol). With each retreat, we are learning to worry less about running out of ideas, and instead, feel excited by the myriad possibilities. Every retreat has provided an abundance beyond anything we could have imagined. Wolf Ridge was our sixth retreat. It was powerful beyond words... but alas, we're going to try to share a bit of the weekend with you here.
We are continually amazed at the uniqueness of each retreat.
The content we create is based on whatever life experiences we are living prior to that retreat. For those of you at the February Hackensack retreat, many themes emerged based on personal passions pursued by all of us as well as career shifts happening in our lives.
Joella created content based on her new fascination with sound healing and the cycles of the moon. Stacy created content based on her personal experience healing her thyroid, anxiety, and stomach issues naturally. Bryana created content based on her current career transition (and we can't wait to see the ways she's inspired after attending a Trauma Informed Yoga Therapy 300 RYT program in Texas in the coming months to supplement her pursuit to become a Licensed Independent Clinical Social Worker (LICSW) aka psychotherapist). The content I created for the Wolf Ridge Retreat was based on my personal experience healing a decade-plus old trauma. We are not the same people that walked into the first retreat. We are not even the same people that walked into our winter retreats 6 months ago. It's tough to get our minds around all the ways the retreats have pushed us to grow emotionally, spiritually, and creatively.
The retreats also largely rely on the energy and intentions brought to the table by our guests. The heartaches, losses, celebrations, and insecurities of our attendees give character, color, direction, and texture to the conversations.
All these deeply personal stories shape the connections made, relationships forged or strengthened, and the message transmitted at the retreat.
Lastly, our retreats are shaped by the gifts our guests bring to the retreat. The cooking class with Chris, flute music provided by Bryana's sister-in-law Katie Ryan, Kirtan with Kristy Marie and Gang, poetry shared by guests- we cannot foresee the way a retreat will unfold until we arrive. Yes, we make insane schedules, but there is no way to know how it will all come together.
This we know for sure, each retreat is a blessing. A space for healing, community, love, gratitude, release, grounding, wholeness.
I sort of feel like I took some hallucinogens. Did that really just happen?
I've never taken hallucinogens, but I imagine the aftermath feels a bit like this. I'm still riding high on a wave of gratitude and can't quite grasp at what it all means. It is hazy. I can grasp some of the threads, I see some images and flashes in the vastness of the experience, but it is going to take time to sit with the experience before the whole picture becomes clear. As I pulled into my parking space on Monday morning, listening to one of Joella's playlists, I burst into tears.
Joyful tears. Cleansing tears. I walked into work with henna on arm, mala on wrist, Chacos on feet, sleep in eyes, hair brushed but not curled, ready to bring the fullness of the weekend with me.
Retreats also offer challenges for us to overcome. These challenges push us to seek out new locations, new visions, and help us evolve to meet the needs of our guests (finding uniquely resplendent locations at an affordable rate because we are in the business of offering a great retreat experience for normal people living on a budget). The challenges also force us to look within ourselves and ask, "are we doing enough, are we doing this right, what is the best path forward?" And we do this work of evolving with joy and gratitude and laughter.
By the numbers
I slept a total of 13.5 hours while at Wolf Ridge (3 nights) yikes! But I woke to greet the sunrise, sang around a bonfire, and laid on a star deck watching a meteor shower and laughing at UFO stories. Well worth it!
I walked 72,452 steps while at Wolf Ridge, averaging 18K steps per day. I'm sure many Omies got even more than that as I opted out of the high ropes course, rock climbing, and the Sunday sunrise hike.
I ate two types of flower- orchid and marigold.
I cried many times, once while becoming emotional talking about the Beatles and once due to belly laughter after my shirt flew off in Nadia's heart-opening class followed by a glob of drool dropping onto my mat.
I participated in seven yoga classes: all uniquely beautiful and powerful in their own way.
I engaged in countless special moments with friends; old and new. The memories and feeling of those connections will last a lifetime.
Settling In- Thursday and Friday morning
We arrived Thursday evening and settled in with a vigorous vinyasa with Joella followed by our intention setting ceremony and opening circle. Before heading off to get a good night's rest, we listened to Stacy share her experiences with essential oils and some basic tips for integrating oils into our everyday routines. We were excited about Stacy's "oil bar" which debuted at this retreat but will definitely be back at all retreats go forward.
Friday morning we hiked up Marshall Mountain to watch the sunrise. Bry didn't know how to properly set-up the coffee pot and didn't realize it until just before we ventured out at 5:20 am. We had many un-caffeinated hikers, but we all handled it like champs. Perhaps letting the fresh crisp air of morning wake us up was a gift in disguise. Bry and Joella also led all of us the wrong way (no coffee), but luckily we noticed before going too far in the wrong direction. I love to watch as people take in the view atop Marshall Mountain for the very first time.
Bryana guided us through a gentle flow to wake our bodies. By the close of Bryana's practice, most of us had finally arrived mentally and fully settled in to the space. The obligations of our lives started to fall away and our anxieties started to give way to calm. From there, guests took off to conquer the high ropes course, create dream catchers, and climb the rock wall while we spent the morning practicing and preparing for our chakra ceremony.
After lunch, many of us marched down to Wolf Lake for an alignment workshop on the dock. Sparkling with sweat after class, we all made it into the water with a little peer pressure and a lot of encouragement. Many of us participated in a diving contest. Participants might agree that some "artful leaps" were more artful than others…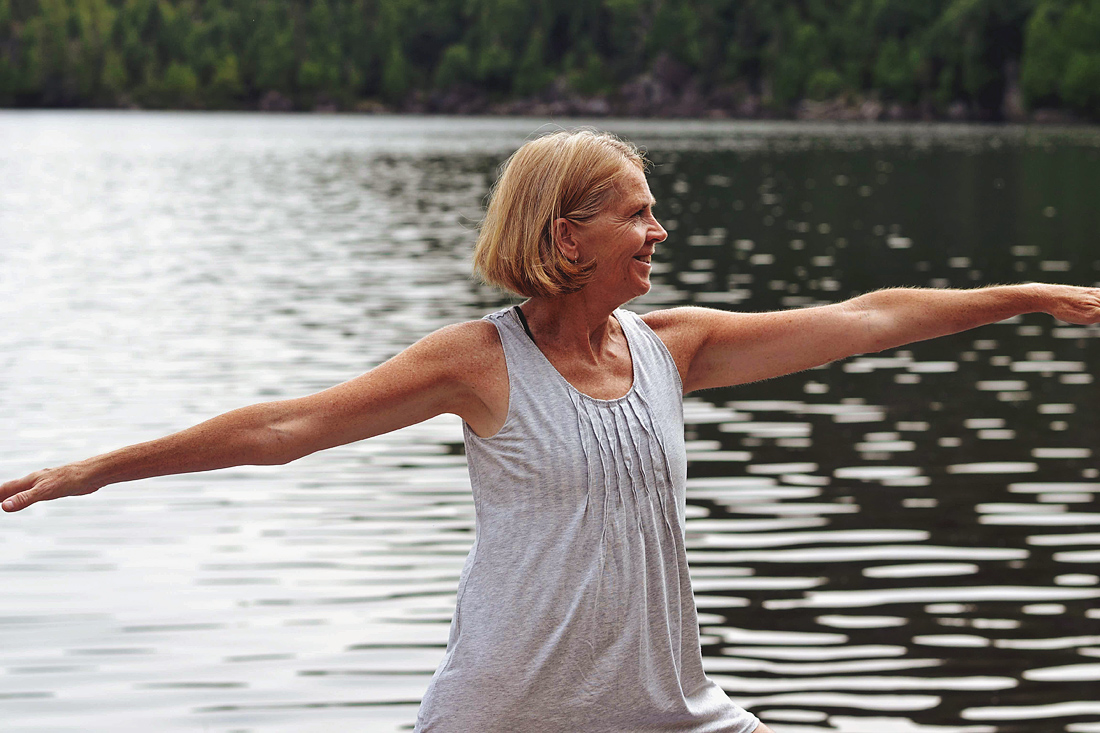 I planned to teach a calming, grounding Goddess Flow Friday afternoon. However, as the yogis entered the space after an adventurous day, the energy in the room was electric. The flow was challenging; I expected to see quite a few people pop into child's pose or savasana but everyone seemed to be in that rare space where the energy and intention are present, and the body is fired up and ready to perform with grace and strength. When I said things like, "if you are ready, launch into airplane" I anticipated maybe 60% of the group would do so, and to my awe and surprise, nearly 100% of the class flew into airplane.
We danced, we laughed, we let out our inner Baba Yaga (don't ask).
At dinner, our special guests arrived- Kristy Marie and gang. It was nearly time for the special ceremony we had been planning for months. In a radical act of generosity and compassion, Kristy Marie brought several talented musicians and arrived ready for whatever energy/set-up we presented.
Chakra Ceremony
We asked guests to sit in silence for two hours during the ceremony. Over the past few months I have been creating poetry specific to each chakra.
I never felt very connected to the chakras (felt like voodoo) and even when I tried to connect, I knew I had a serious disconnect from my sacral chakra. It felt easier to just leave chakra work to other people. I recall sitting through chakra workshops over the years, even recently with Bry and Jo, and just thinking, "this is not for me."
Over the past year, the #MeToo movement brought up some challenging emotions. Frustrated and ready to move past something I was tired of dragging around, I scheduled a shamanic healing session. The session was intense. When I got home, a few girlfriends came over and I suggested we paint as I wasn't really able to make small talk at that time. Without even making a conscious decision to do so, I painted a self-portrait with each chakra pictured equally sized and perfectly aligned.
Over the weeks and months that followed I worked on spoken word poetry for each chakra. I put this two hour ceremony on the schedule and Bry and Jo didn't really know what it was or what we were doing, but they didn't question it.
At the ceremony, Joella shared her sound healing music of the crystal bowls. Bryana and Amanda took turns reading poetry and factual content about each chakra while our guests meditated and journaled. The entire ceremony concluded with Joella playing all the crystal bowls, the sound washing through our bodies, combing through our sinews, vibrating our teeth- a celebration of wholeness.
After, omies painted self-portraits representing the whole chakra within while Kristy Marie NurJehan Chishti , Bryce Kastning, Aaron Tanke, and Emily Heart (Hysjulian) led us in Kirtan.
We concluded the ceremony by singing along and dancing together.
I have much more I could say here, but I don't want to cheapen the experience by putting it in words so I'll simply say that it was an experience we cannot replicate, and we wouldn't even dream of attempting to do so.
Saturday
Joella started us off for the day with a New Moon Yoga Flow. Joella is highly inspired by that big ole' orb in the sky (or lack thereof) and provided us with knowledge and inspiration for the day, as well as life after a yoga retreat.
Nadia led us in an outstanding heart opening class. We were so impressed with how many attended this optional class, as we had already practiced so much yoga and we had more than half the day to go. Nadia inspired us with her vulnerability, grace, and creativity.
After lunch, attendees had three workshop options: myofascial release with Bryana, digging into the crystal bowls and new moon a bit deeper with Joella, or learning about living yoga off the mat with Amanda.
Bryana taught a myofascial release yoga flow class as a workshop option. The class was free-flowing and relaxed. We gently worked out a lot of soreness and tension. There was a question about the whether or not it was appropriate to make noises of joy (i.e. groans)- which was followed by many giggles. Afterward, we felt relieved and connected - better equipped to take on more of the day!
Joella dug deep into the new moon with her workshop attendees. She was able to allow a more intimate space for sound healing with her crystal bowls. Several students experimented with playing the bowls and noticed how different and powerful it felt.
I led a small group of women through a discussion on the Yamas & Niyamas on the shore of Wolf Lake. The time was intimate and was one of the most special moments of the weekend. The Yamas & Niyamas are tough y'all, it's not easy to face ourselves. Ultimately though, the Yamas & Niyamas are crucial in the conversation we have with ourselves. Living yoga off the mat allows us to come to our mat grounded with a quiet life.
After workshops, twelve of us gathered in the kitchen with Chris, the head chef at Wolf Ridge, to prepare dinner and learn more about his vegan mastery. The three hours spent in that kitchen were inspiring, putting it mildly. This blog is already super long, so I'm going to save it for another day. Suffice it to say, Chris shared his heart with us. He talked about food justice, eating slow, bringing family-style meals to Wolf Ridge, creating a circle of life process at Wolf Ridge through the organic farm, composting, and using all components of the plant, eating mindfully… more on that another day. It was rad. We ate orchids and vegan pho. Enough said for now.
After dinner we settled into our intentions with the New Moon. Bryana taught a Beatles inspired class in the evening with the theme: Let it Be. Amanda shared her love of the Beatles and why they are significant and influential to yoga in the west (she might have a cried a little - which let us all know just how much she REALLY loves the Beatles). Bryana's sister-in-law, Katie Ryan played her gorgeous flute for the last half of class and donned a Beatles tank and flower crown for the occasion. Amanda accompanied her with her ukulele and voice for a final Savasana unlike any other. After they were finished with the savasana song "Let it Be", the energy in the room could not stop yogis from pounding on the floor, clapping, and "whoop whooping". Spontaneously, Amanda asked the group - "Do you want to sing it again with us?", to which the unanimous response was, "YES!" and we joyfully sprang up and sang in unison.
Saturday evening we celebrated birthdays by the bonfire, indulged in s'mores, and attempted campfire songs with varying degrees of success. We have a lot of room for improvement in the campfire songs department. A few yogis fought off sleep long enough to lay out on a star gazing deck and observe the Perseid meteor shower which peaked while we were at Wolf Ridge. Due to the new moon and being removed from light pollution, we had front row seats to observe the splendor of the cosmos. Nights like that are once in a lifetime.
Sunday
When we first started creating retreats we didn't really know what we were doing. We still are by no means experts, but we've learned that our opening circle and closing circle are our favorite parts. It's amazing to see how much connection and growth occurs over the span of a weekend. The closing circle is always an emotional experience of gratitude and tears of joy.
Some of our Omies made the brave choice to share some of their writing from the weekend. We thank all of you brave enough to be vulnerable and open with the group.
Final Thoughts
Every retreat is unique and special. No one retreat could ever possibly be duplicated if we tried. We are often amazed at how our ideas pan out - you never know until you mix your plans with the energy of the room. We throw ourselves into this work because the personal development is so rewarding; not only for us, but we see it in all of you. It is a great privilege and honor to be able to create and hold this space for you. We are so grateful to be able to work on these retreats day-in and day-out for you. Not too long ago, we did not realize that this pursuit is our dharma - now we do know and we are grateful for you. Without you, we would not have the opportunity for this beautiful adventure and fulfillment.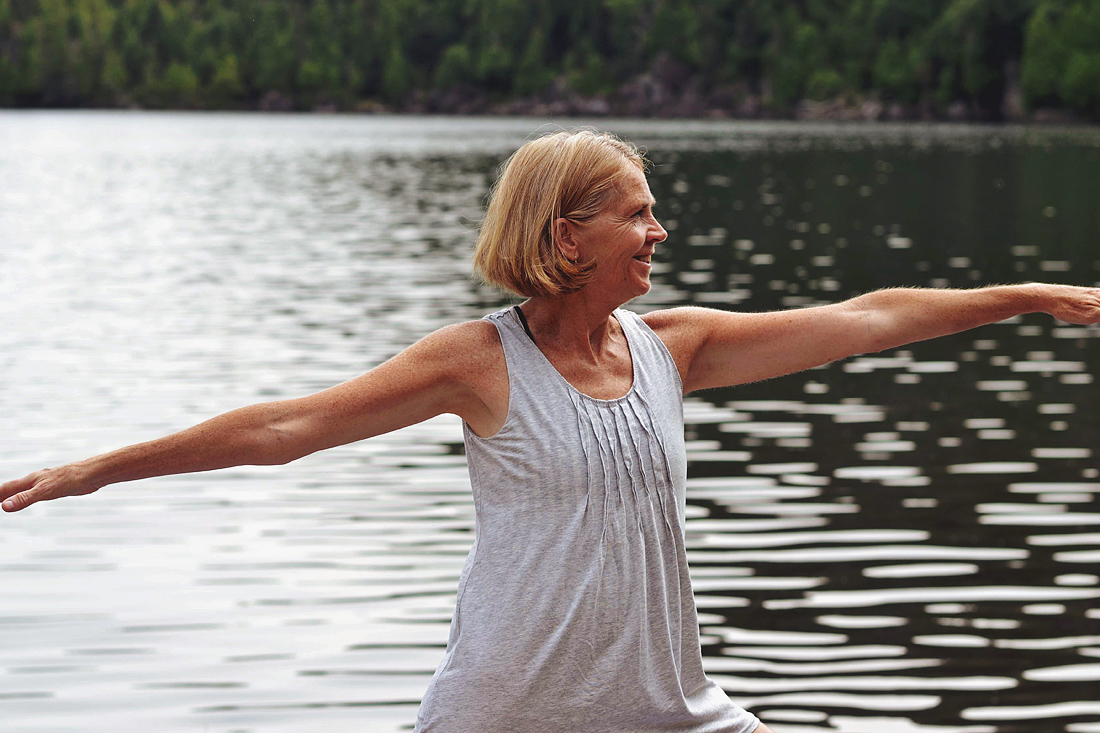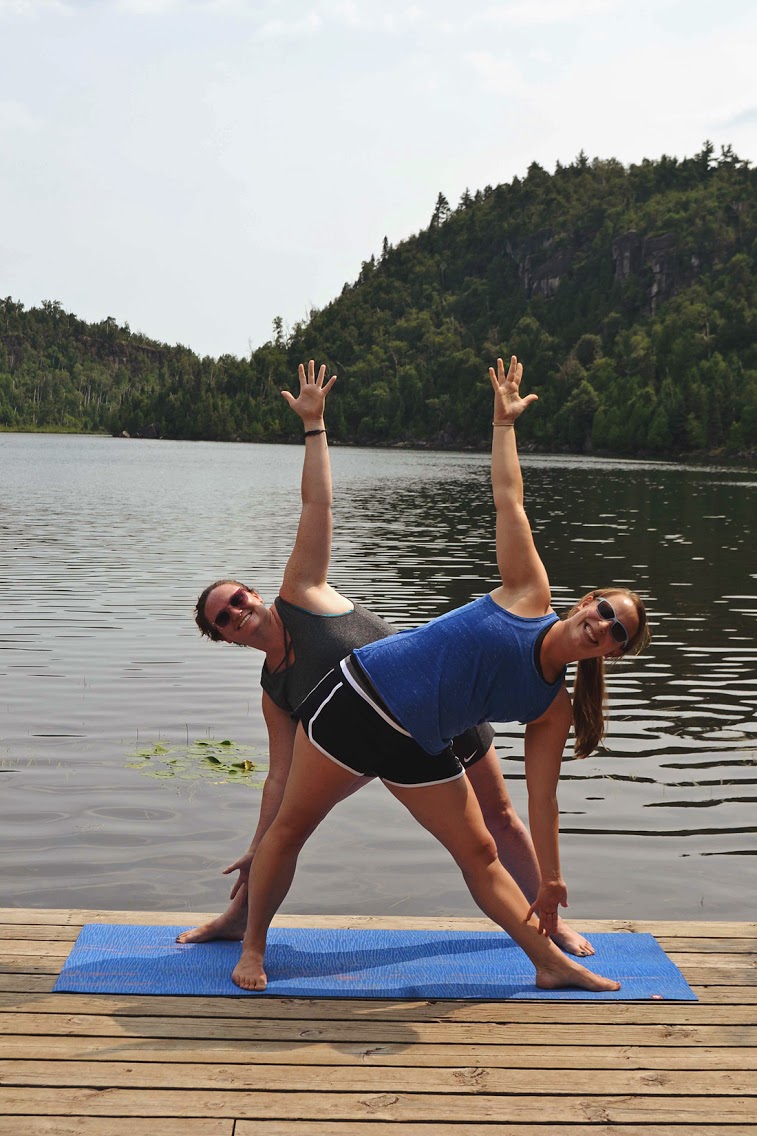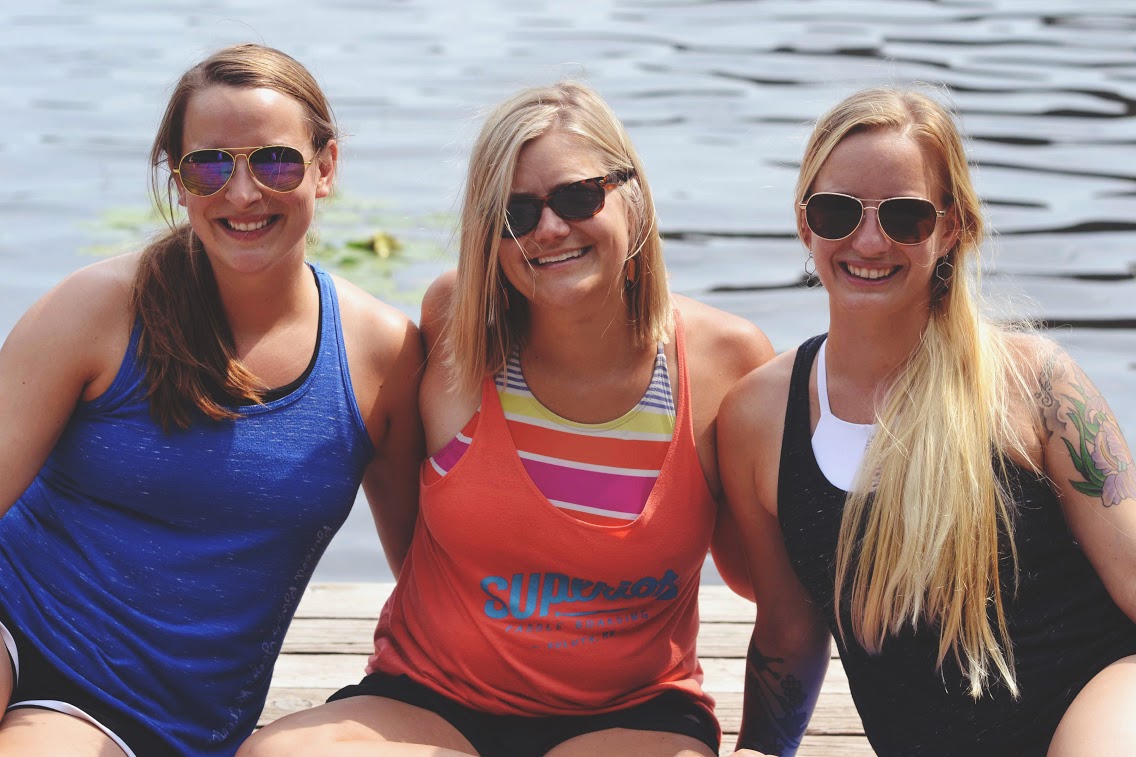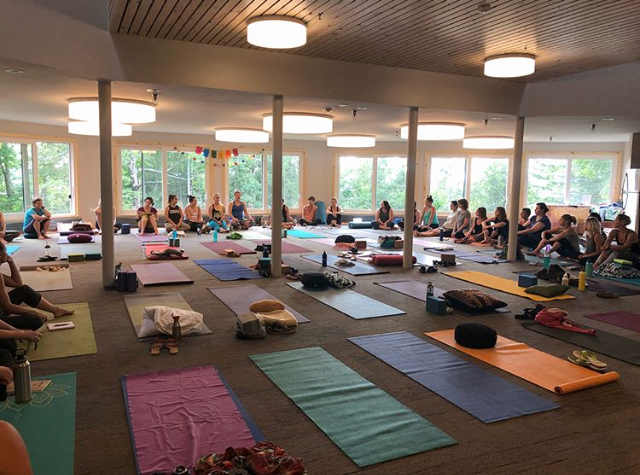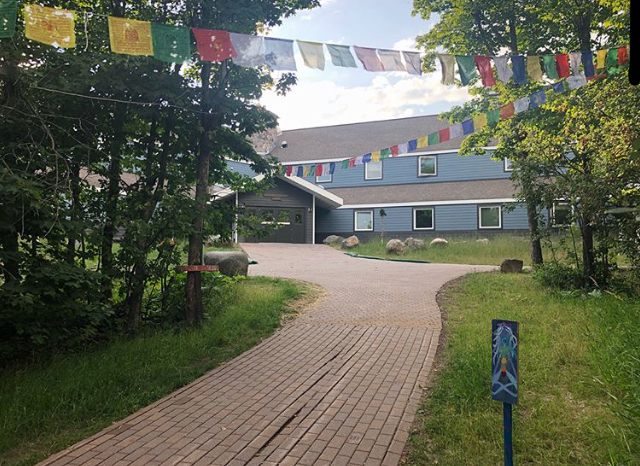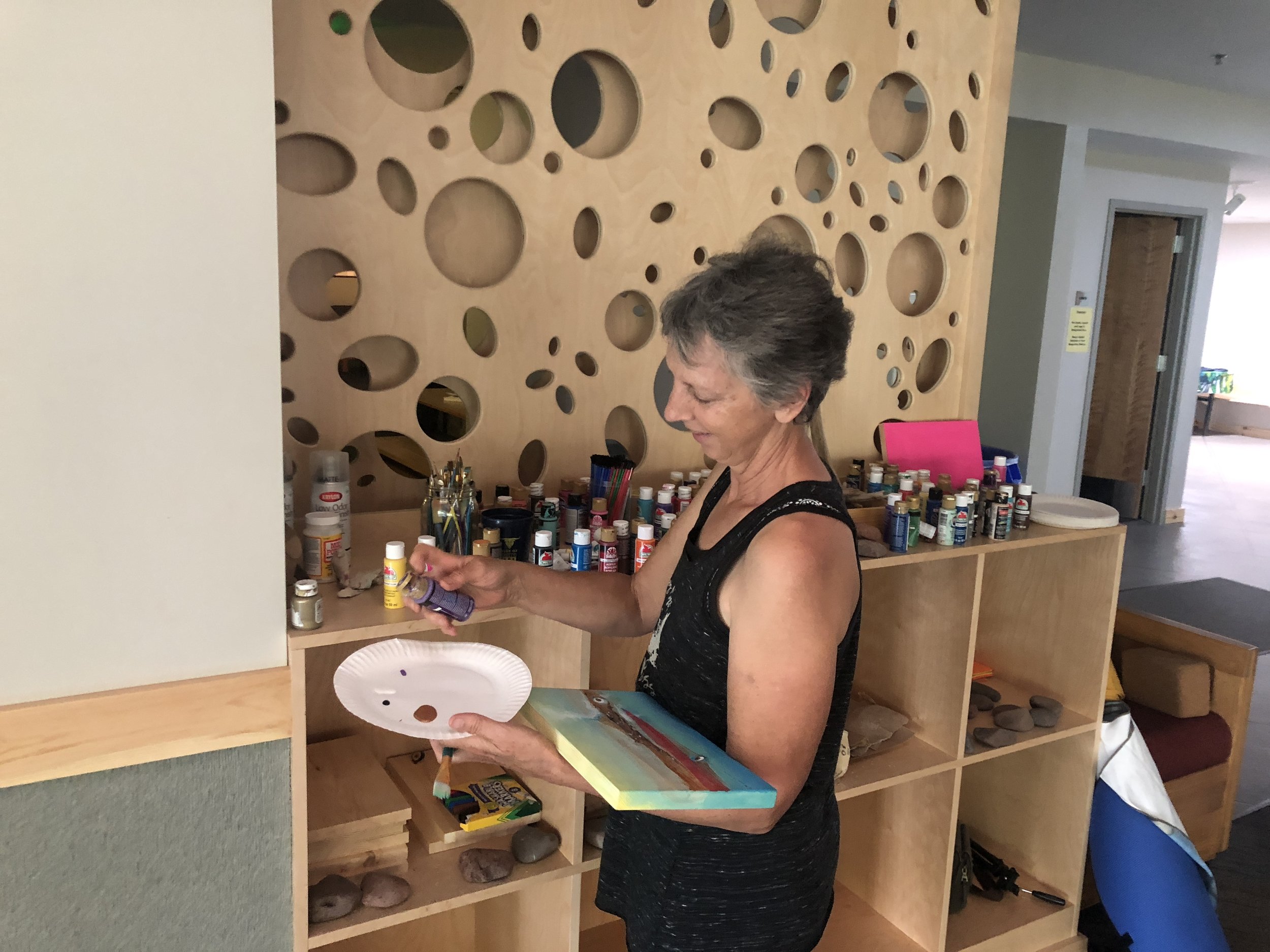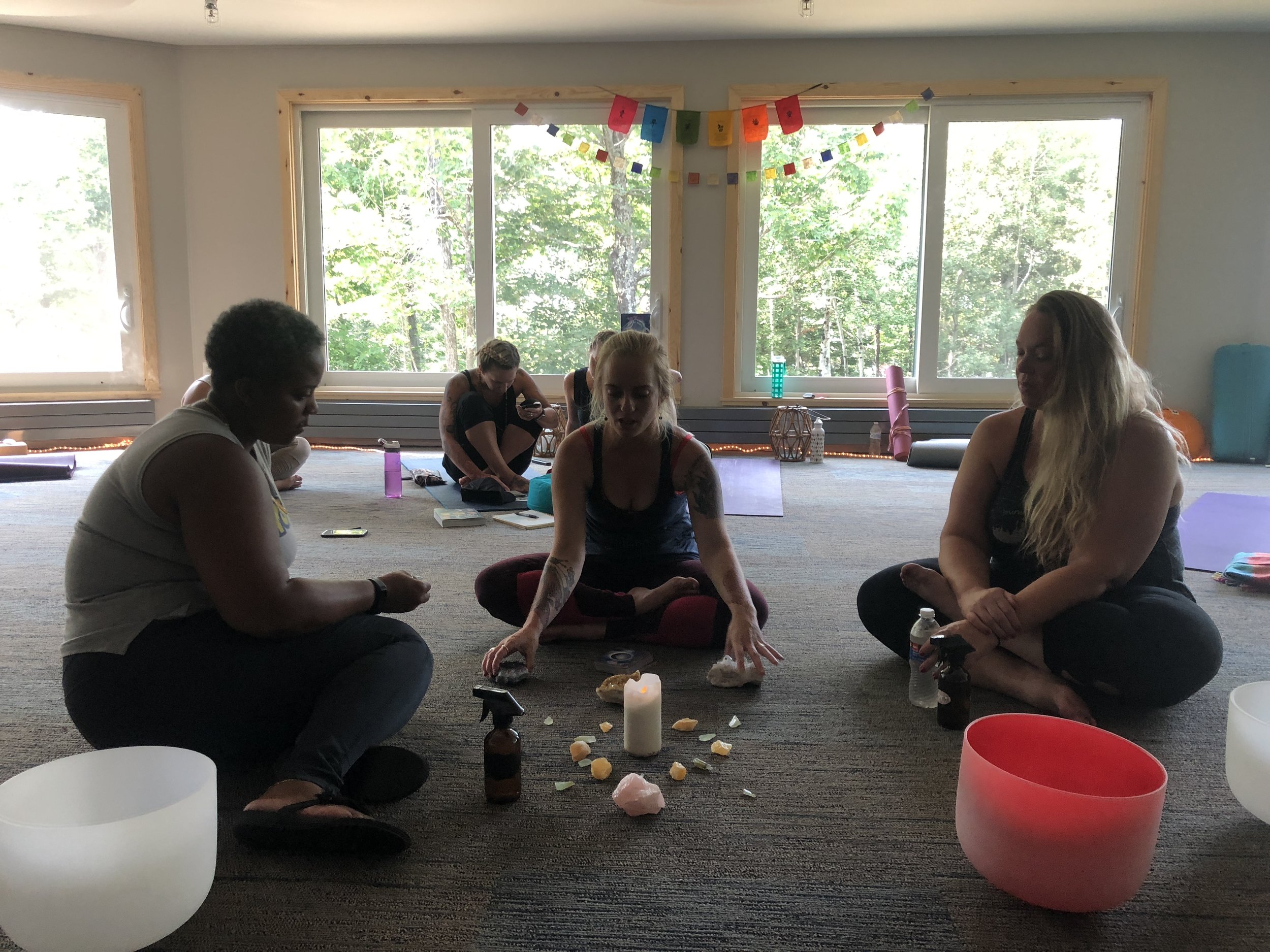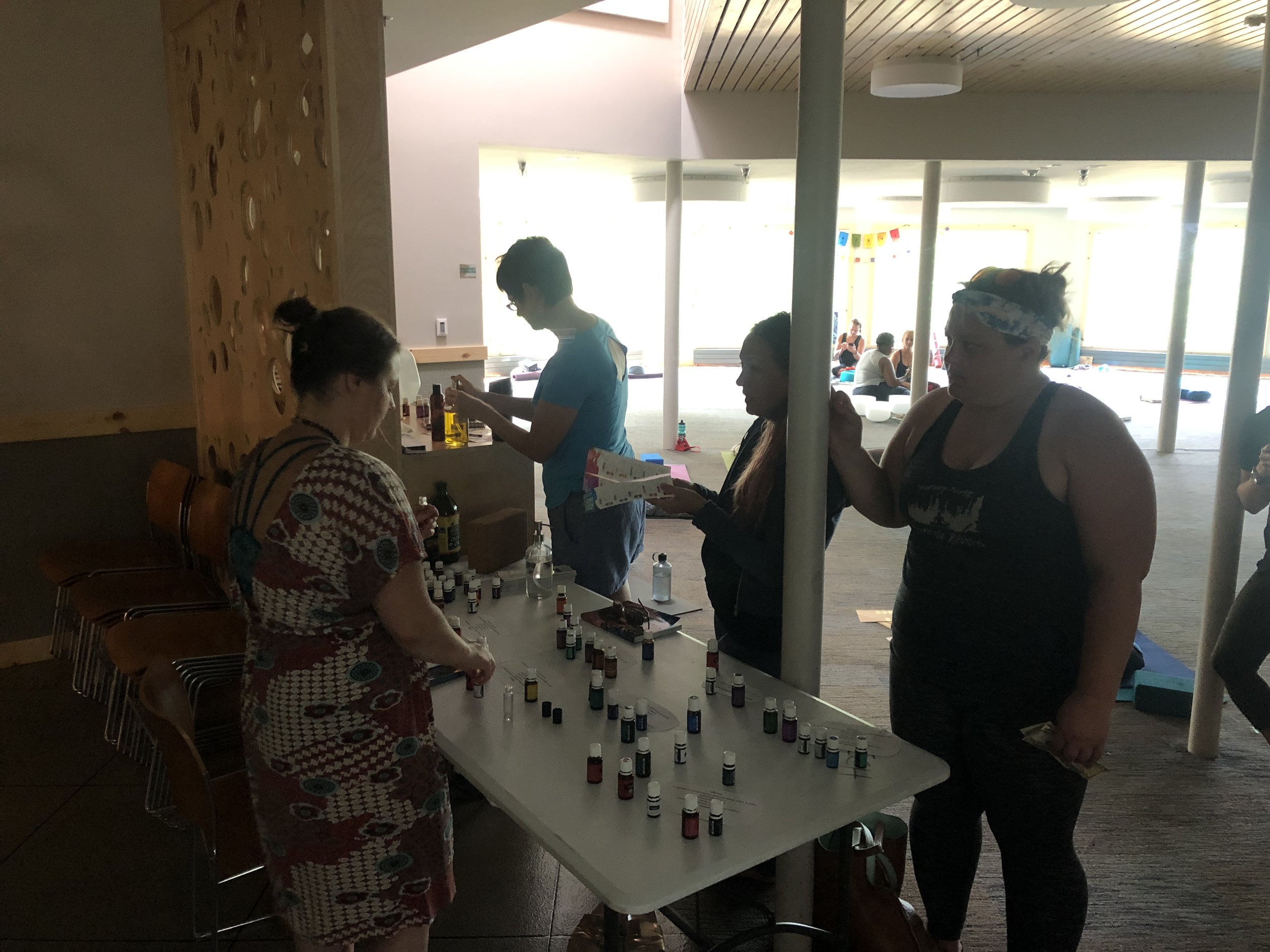 Thank you
for capturing so many special moments at this retreat.